FOOTWEAR
Comfort Clinic offers a great selection of footwear, including orthopaedic shoes, athletics shoes, comfort shoes, casual shoes, and sandals. Your shoes play an important role in your life as it demonstrates not only your style, fashion, and personality but brings extreme mobility, increases stamina, enhances movement, and makes lifestyle quite healthy. However, a foot injury proves quite detrimental to the health of your feet, and perfect shoes can prevent such mishaps. Arthritis, Bunion, Corns and Calluses, Bursitis, Gout, Plantar Fasciitis, and Achilles Tendinitis are some of the causes of foot pain. Your footwear, if not selected properly, can also cause knee pain. Majority of people face some kind of foot complications at some time. Your footwear can also become the primary source of foot pain. If footwear doesn't fit or follow the shape of your feet, it can cause serious foot complications. You should only select comfortable footwear to avoid foot pain. At Comfort Clinic, our professional team of chiropodists, certified orthotics fitters, and orthotics lab experts in Oakville help you with your shoes selection, fitting and style. We have a wide range of footwear, including Orthopaedic shoes, Athletic shoes, Sandals, Casual shoes, and Comfort shoes for men, women and kids.
TOP SELLING BRANDS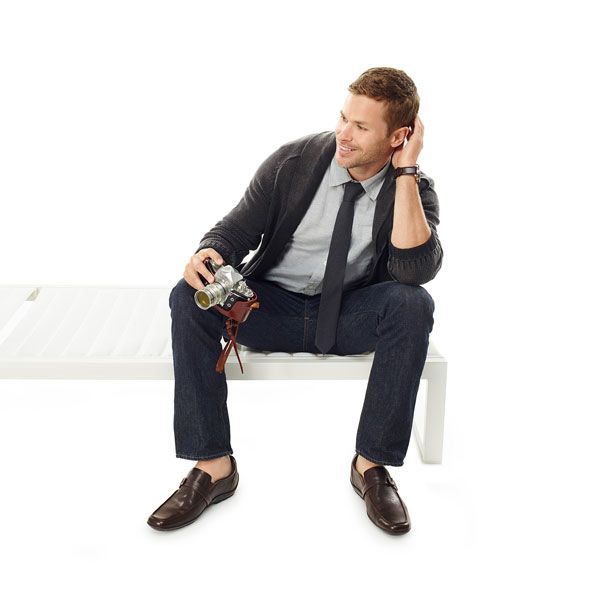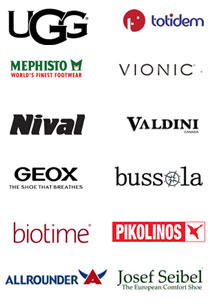 ORTHOPAEDIC SHOES
Comfort Clinic has a great variety of orthopaedic shoes that can help prevent a foot pain. Orthopaedic shoes treat most of foot pain problems occurring due to bone deformities, diabetes, ankle sprains, and foot misalignment. Your doctor may prescribe for orthopaedic shoes to alleviate you foot pain, back pain, and ankle pain. These orthopaedic shoes can be used used as running shoes, and athletes can enjoy their athletic activities while wearing these orthopaedic shoes. Orthopaedic shoes can also prevent feet problems from getting worse. At Comfort Clinic we do bio-mechanical assessment and gait analysis before our chiropodists or certified shoes fitters suggest you an orthopaedic shoes solution. Orthopaedic shoes have certain prominent features, including removable insoles, heel counter, contoured footbed, rocker bottom sole, breathable uppers, padded tongue and collar, and toe box.
Orthopaedic Shoes Features:
Contoured Footbed: Contoured footbeds are designed according to the shape of your feet and support your feet arches.
Rocker Bottom Sole: Orthopaedic shoes with this feature have very solid, curved outsole that provides extra traction and prompt you to walk "naturally" – rolling your feet heel-to-toe.
Removable Insole: Orthopaedic shoes feature removable insoles that will allow you to insert your custom-made orthotics without any hassle.
Heel Counter: Your feet will have added stability with a firm heel counter that can absorb shocks and prevent foot injuries.
Breathable Uppers: Most of orthopaedic shoes come with breathable uppers, which keep your skin fresh and dry all day.
Padded Tongue & Collar: Your orthopaedic shoes feature padded tongue and collar – to stop irritation and prevent related feet complications.
TOP SELLING BRANDS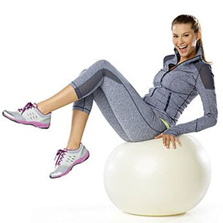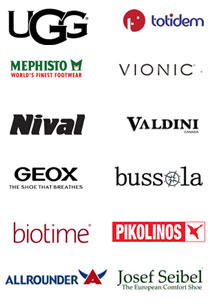 ATHLETIC SHOES
Comfort Clinic carries a wide selection of athletics shoes, keeping in mind the special needs of your athletics shoes requirements. These athletics shoes have certain features, including firm heel control, perfect fitting, shock-absorption technology, firm arch support, absolute foot support, and high quality construction. They offer maximum comfort level to the feet of active, athletic people. These athletics shoes prevent foot injuries, ankle sprains, heel pain, stress fractures, overuse syndrome, shin splints, and tendinitis.
Athletic Shoes Features:
Perfect Fit: Before you choose your athletic shoes, our certified certified specialists will measure the length of your feet to ensure that you are selecting the shoes according to your correct shoe size. Our shoe fitters also consider the width of your feet and your weight as a runner. As a result, you will have athletics shoes with perfect fit, style and comfort.
Firm Heel Control: Our athletic shoes feature firm heel control to keep your feet alignment intact during your exercise, running, or work-out.
Foot Support: This feature provides an adequate support for the foot, heel, ankle and knee to avoid sprains and other foot injuries. Such athletic shoes support all primary types of motion.
Firm Arch Support: A thorough foot assessment will help us select athletics shoes that will deliver an adequate arch support for pronation, supination or over-pronation.
High Quality Construction: Due to high quality construction and materials, our athletic shoes have great flexibility, durability and are light in weight – to keep your feet safe, fresh and dry.
SANDALS
Comfort Clinic offers a wide range of sandals, including casual sandals and dress sandals, that will match your needs, style and comfort level. Designed for women and men, these comfortable sandals have fashionable look, while providing great support to your feet. Comfort Clinic has a collection of sandals featuring Soft-Air Technology, contoured cork footbed, leather and suede and lining, soft-air midsole, and rubber outsole with traction. Due to their advanced technology, these sandals can help prevent ankle strains, foot stress, plantar fasciitis and other foot-related problems.
Sandals Features:
Contoured Cork Footbed: Most of our sandals offer contoured cork footbed that gives great comfort, stability and support to your feet.
Leather Uppers and Interiors: Use of high-quality leathers gives unique stylish looks to our sandals, while keeping the skin of your feet fresh and comfortable.
Cushioned Midsole: Sandals with cushioned midsole support your feet arches and provide a safe buttress against shocks and jolts while keeping your feet safe and sprain-free.
Flexible Straps: Sandals with adjustable straps give you flexible fitting options and can dramatically improve comfort and walking experience.
COMFORT SHOES
Comfort Clinic features wide variety of comfort shoes that can prevent foot injuries and other complications. Lightweight, with built-in shock absorber, our comfort shoes will cushion your every step and prevent blisters and calluses. Even after being on your feet for the whole day, you will feel comfortable and refreshed. Comfort shoes uppers are made of variety of soft materials, such as leather, mesh and synthetic materials. Their breathable lining provides an ultimate all-day freshness. Our specialists will help you choose comfort shoes that will match your lifestyle and needs.
Comfort Shoes Features:
Cushioned collar: Wraps your ankle and provides great comfort and perfect fit.
Fine Upper: Comfort shoes have soft uppers made of leather, mesh and other materials. They let the skin of your feet breathe and keep your feet dry and fresh all day.
Comfortable Insole: Unique shape provides medial and lateral support to guide your foot during movement and creates all-day comfort, stability and support. Featured footbeds can be removed to accommodate custom orthotics.
Therapeutic Value: Bio-mechanically engineered comfort shoes will maintain correct alignment of the foot and leg to the ground, support natural and balanced gait and relieve pressure of your joints, ligaments and vertebrae.
Sturdy Outsole: High performance rubber provides traction and durability for long lasting support, minimizes the shock and enhances the natural way you walk.
CASUAL SHOES
Comfort Clinic features great selection of casual shoes, sandals, boots, and walking shoes which offer comfort, style and protection in variety of sizes and widths. These shoes are designed for relief from foot pain and complications due to health problems, injury or overuse. Our certified fitters will help you choose the best casual shoe while keeping in mind your needs, foot and toe conditions, weight, and style. Busy lifestyles demand great shoes that can stand to countless daily activities. That's why we carry extensive range of therapeutic footwear with attractive designs and trends, so you don't have to sacrifice style for comfort.
Comfort Shoes Features:
Contoured Footbed: Absorbs the shock resulting from walking, establishes stable environment and curves according to the shape of your feet.
Fine Material: Made with the finest quality materials, including leather, synthetic material and mesh – to create great fitting uppers and extra cushioning insoles to soften your stride.
Breathable Upper: A healthy climate is provided in your shoes by innovative technology of leather uppers and mesh to maximize air circulation, that can keep your feet dry and comfortable all day.
Padded Collars: Ergonomically fit around your ankles to prevent blisters, irritation and discomfort. Ideal feature for diabetic feet.
Soft Insole: Multi-layered construction of insoles to ensure comfort with every step. Some of these shoes come with removable footbed to accommodate custom orthotics and they offer great options to customers with problem feet.
Flexible Outsole: Well-designed outsole with extra flexibility to allow a natural foot movement, while providing adequate stability and support.