Get more out of your TRAINING, protect and energize muscles!

Intelligent sportswear have been scientifically proven to improve blood flow, allowing athletes to reach higher speeds and greater performance using less energy. Compression socks apply consistent compression to the calf, allowing the arterial walls to relax and flow of the oxygen-rich blood to increase by up to 40%. More oxygen means more power during performance and faster recovery!
With all the choices in compression sportswear these days, it can be hard to decide what product you should buy. How can you know if what is being offered is a "gimmick" or a truly effective performance tool?
Some products out there may say "graduated" but when you put them on the compression is greater at the calf than the ankle. Think about that: if the socks squeeze tighter at the calf that the ankle, then the socks will promote the blood flow toward the ankle rather than the heart. This can hinder performance, recovery and in some cases cause more harm than good. Other products measure by shoe size or simply are not made using anatomical measurements and designs. The result can be opposite of what the compression socks should be or compression is not tight enough to help you.
Graduated compression socks are tighter in the ankle, looser in the calf to bring blood back to the heart, anatomically and medically tuned for maximum performance. Have your leg circumferences measured to ensure proper compression. The compression on the calf is lower to effectively target the arteries.
By increasing both arterial and venous blood flow, compression socks will keep your legs feeling fresh during exercise and ensure a speedy recovery. They also help prevent plantar fasciitis, shin splints, muscle strains and post workout soreness. Socks are made of filament fiber for extreme durability, with wide top band for perfect fit and extra-flat toe seam prevents pressure points.
Temperature regulation socks – cooling effect of the yarns quickly transports moisture away from the skin. By moving moisture to the outside of the garment, evaporation is increased. Reducing the temperature by as much as 7 degrees Fahrenheit.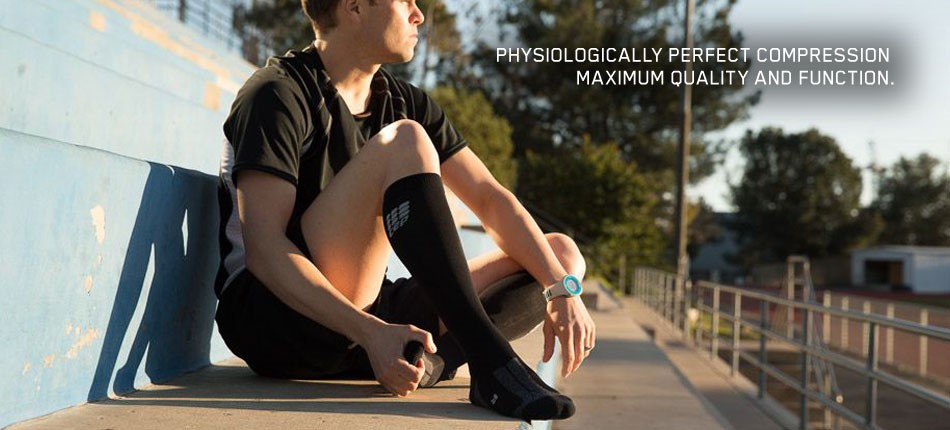 These socks are not just for long distance runners but also for multi-sport athletes (hockey, soccer, basketball, etc.), individuals who are on their feet all day (waiters, nurses, construction workers, etc.) and also great for traveling. Available for men and women.
Compression Socks Benefits:
More energy, greater endurance and enhanced performance thanks to improved blood circulation
Activates flow of blood in the muscles
Muscle and joint stabilization for reduced risk of injury
Increased coordination by activating the muscles for sense of stability and security when running.
Antibacterial, with odour-reducing silver ions
Reduces muscle trauma and vibration
Perfect fit prevents blisters
Unmatched wearing comfort in shoes