Bra Fitting
Comfort Clinic has experienced team of bra fitters in Oakville who make sure that every women in need of a special bra feels comfortable, natural and confident.
Realizing that women's breasts not only differ in cup size and band size but also in cup forms, we offer three different cup forms – such as shallow, average and full cup. Our fitters apply professional techniques to measure your bra size and match it with correct breast form size and cup form, and provide the best bra that will satisfy your style, comfort level and fashion.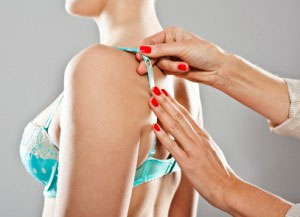 Comfort Clinic has a wide collection of beautiful bras and other intimate apparel that gives you a complete feminine and fashionable look. Our bras are tailored to fulfill your needs and provide a perfect solution for every occasion – classically feminine, elegant, modern and sporty. Discreet multi-option pockets hold your breast form securely in place. These bras are made of fine fabric shaped to mould perfectly into the cup of the bra, and their multi-option pockets give you more choices. These bras have adjustable shoulder straps to support your breast form without putting any strain on your shoulders. Some styles have wider, padded straps for additional comfort and support. Our bras also have wider under band to ensure your breast form has just the right amount of support and stays securely in place.
What to expect:
Perfect bra measurements

Wide selection of bra designs, fabrics and style

Fitting consultants always available

The best choice for performance, comfort and confidence

Confidence, comfort and natural feel