Compression Garments Fitting
Comfort Clinic has an experienced team of compression garments fitters who apply top-notch compression therapy techniques while treating lymphedema, edema, venous insufficiency, and other related conditions in Oakville and the GTA. Compression stockings, compression sleeves and compression wrap-around garments are generally made of elastic and non-elastic fibres or rubber and are used for compressing the affected limb and increasing circulation. These kinds of compression garments are classified according to the applied pressure, which is measured in mmHg. The higher classes of compression garments range from 20-30 mmHg to 50+ mmHg, and usually, require a doctor's prescription. Non-prescribed or "over-the-counter" compression garments are available in 10-15 or 15-20 mmHg.
Our certified compression garments fitters have a set of unique skills in applying high principles and techniques of compression therapy. They possess a great knowledge in using compression garments (compression stockings, compression socks, compression sleeves, compression wrap-around, etc.) manufactured by leading manufacturers of compression garments, such as Juzo, Mediven, Sigvaris and Airway Surgical Appliances. Our facility is a proud member of Lymphedema Association of Ontario.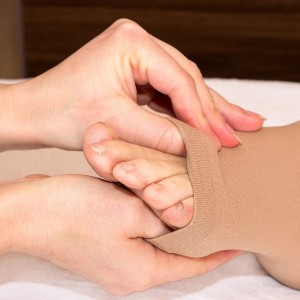 Our compression garments fitters work with the compression garments of all classes, material and construction. Comfort Clinic offers compression stockings, compression sleeves, compression wrap-around, and custom compression garments fitting services for compression therapy in Oakville, and the GTA.