What is orthopaedic footwear?

Orthopaedic footwear gives you stability and freedom to be comfortable, walk pain-free with customized fit and support, and improve mobility to enjoy your everyday activities.
Unique design of orthopedic shoes is an incorporation of added depth and forepart of the foot-bed, wide shank area for arch support and stability. Orthopedic shoes versatility allows for accommodation of prescribed orthotics of all types, offers excellent balance and weight distribution.
Benefits of orthopedic shoes:
Foam padded collar that prevents heel slippage for snug and friction free fit
Padded tongue to minimize pressure over instep
Extended medial heel stabilizer to provide rear foot walking stability and to minimize heel slippage
Deep toe box and forefoot to provide adequate space for use of a custom orthotic
Plus fitting system: two removable polyurethane foot-beds with heel cushion and maximum build-up arch support
Strong synthetic fiber or tempered steel shank that adds support and stability with excellent arch support
Stabilizing heel cradle for shock absorption
Sole with wide shank: slip-resistant, oil resistant, non-marking rubber outsole that provides a mild rocker bottom to move the foot forward during walking and wide ball-of-foot base for stability and great fit.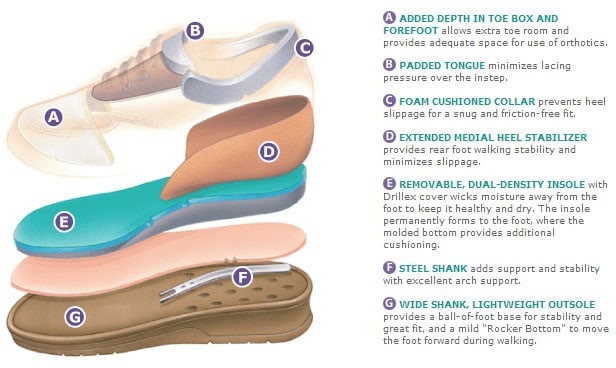 Orthopedic shoe are excellent for applications to treat minor foot conditions such as plantar fasciitis (heel pain), flat feet, high arches, metatarsalgia (ball of the foot pain), bunions, hammertoes, arthritis and sensitive diabetic feet. They also can easily accommodate any lifts, foot or ankle braces and will make you feel comfortable through the day.